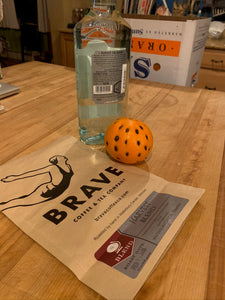 Quarantine coffee fun! (Over 21 only)
Last December my wife bought a case of oranges.  It has been sitting in the garage keeping cool since then.  Every once in awhile we pack one in the kid's lunches or make a recipe with one, but for the most part, they just sat. I noticed the other day they were heading the wrong direction. Then this weekend, we decided the quarantine had provided us with the perfect opportunity to make some magic!  
My wife has made this before, and I was very excited when she decided to make it again, Orange Coffee Liqueur.  Perfect after a meal, or for an evening like I'm having, sitting and sipping while watching opera on PBS.  So if you have an extra orange, and some of your favorite coffee, maybe a bottle of rum, you too can put them to good use! Check the recipe below!
Ingredients
1 large navel orange
44 coffee beans
1 cup of sugar 
1 liter white rum (roughly a quart)
Instructions
Poke forty-four 1"-deep slits all over the orange with a paring knife; stuff a coffee bean into each slit.
Put the orange, along with the sugar and rum, into a widemouthed jar with a tight-sealing lid. Store and let steep in a cool, dark spot, swirling the jar occasionally, for 44 days.
Remove and discard the orange and strain the liqueur through a cheesecloth-lined strainer. Transfer to a clean bottle and store in the freezer until ready to drink. Serve neat or over ice.
---