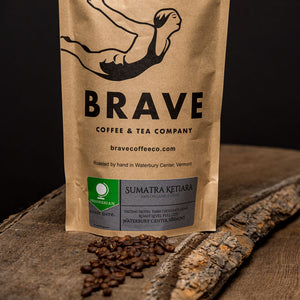 Monthy Coffee Tasting #1: Organic Sumatra Ketiara
 It's a cold and wintery afternoon here in Central Vermont, as I prepare my afternoon coffee. I brewed the Sumatra with a nine cup Stovetop espresso maker.  The aroma of the coffee as it percolated through the pot was reminiscent of cedar and had a nice earthy smell to it.  As I poured it into my mug, I immediately noticed the color, which was like light molasses.  The scent wafting from the cup was of dark chocolate.  I typically drink it black, so once it cooled enough to sip, I tried it.  Immediately the bold earthiness of the Sumatra hit my tastebuds and warmed me on this cold day.  After a few minutes of cooling, it developed a slight sweetness, almost like caramel on dark chocolate. 

If you like a bold coffee, that's doesn't taste burnt, perhaps with a touch of cream, this would make a perfect cup for you! 
Acidity - Low
Body - High
Sweetness - Average
---